15 Day Treasures of India with Pushkar
Booking Dates
12/18/2022 through 12/14/2023
Travel Dates
08/24/2018 through 12/31/2023
Provider
Kensington Tours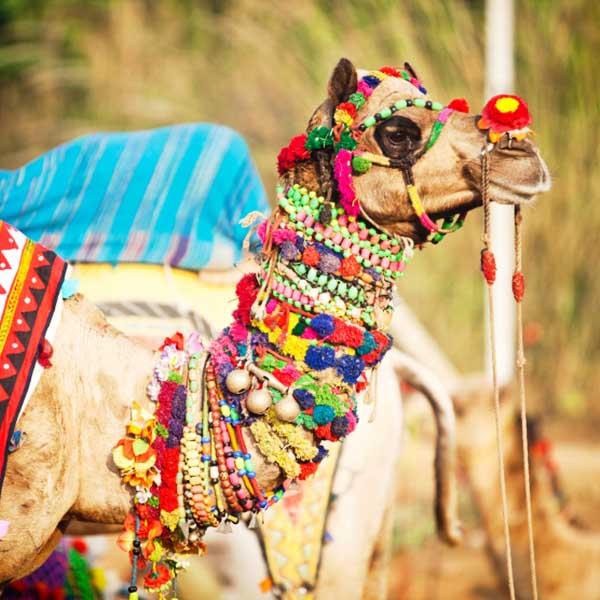 15 Day Treasures of India with Pushkar

Opulent palaces and historic hill-forts, a fairy-tale city in the middle of the Thar Desert – the second-largest in the world – magnificent temples and riotously colored, bustling cityscapes, and more can be found in Rajasthan, India's largest state, tucked away in its northwest corner.
Start your trip in Delhi, where tradition and modernity live happily side by side. The heart of Old Delhi is a 400-year old tangle of lanes with colorful bazaars, complemented by vibrant temples, the towering minaret of Qutab Minar, and the UNESCO World Heritage Site of the Red Fort. From Delhi, fly to one of Rajasthan's gems: Jaisalmer. The 'Golden City' rises from the baked earth of the Thar Desert, the second-largest desert on earth, and reveals itself through its fabulous fort in an almost fairy-tale like fashion. Its remote desert location is a huge draw and a 'Dinner in the Dunes' can be a sublime experience. Even today, it manages to evoke the romance and adventure of what must have been a truly fabled past.
From the middle of the Thar desert to its boundary and you arrive in Jodhpur, which is also called the 'Blue City'. When your private guide takes you to the Mehrangarh Fort, sitting at a lofty 400 feet above the city, you know why: Most of the houses are painted blue. Travel by jeep to visit some traditional villages outside Jodhpur and mingle with locals dressed in their traditional attire. With some luck you might spot black buck, chinkaras or peacocks, freely roaming the countryside.
Your next stop is Udaipur, the city of lakes. The majestic white City Palace offers a spectacular view over Lake Pichola. It's an artificial lake, built in 1364, with two islands, Jag Niwas and Jag Mandir, on which some lovely palaces have been built. The Pushkar Camel Fair, held each Oct-November, attracts over 400,000 tourists and over 11,000 camels and horses. But there are plenty of other reasons why this is a stop on your itinerary. It's an important pilgrimage spot for Hindus because of Pushkar Sarovar, a sacred lake, surrounded by 500 temples. Led by your private guide, enjoy the delightful tranquility of the place with a walking tour through town, visit the bazaar or explore several small temples. Sunrise or sunset by the lake are simply fabulous.
Virtually every building in the historical center of Jaipur is painted a terracotta pink, but vibrant colors are literally everywhere in the city, especially around its bustling bazaars. Visit the City Palace and let your private guide explain the fascinating precision of the giant sundial next door at the 'The Observatory'. The Amber Fort, the city's top attraction, is a breathtaking construction of red sandstone and marble. Viewed from a distance, the sand-colored walls literally appear to fade into the surrounding hills.
The conclusion of your trip around this thoroughly captivating part of the country is a visit to Agra and the Taj Mahal, a marvel of exquisite Mughal architecture, and a monument to love in all its white marble glory. It offers different moods of view depending on if you see it at sunrise or sunset. Not surprisingly, many travelers opt to do both.
This tour is a great compliment to the famous Pushkar Camel Fair which runs from November 22 to 30, 2020 and November 11 to 19, 2021.
Kensington Tours creates private trips from the world's finest ingredients. Tailor-made with care by your personal Destination Expert, your personalized trip is always a one-of-a-kind experience made just for you. Expert local guidance and 24/7 service come standard.
| Day | Description | View All |
| --- | --- | --- |
| Day 1 | Delhi | Details |
| Day 2 | Delhi | Details |
| Day 3 | Delhi To Jaisalmer | Details |
| Day 4 | Jaisalmer | Details |
| Day 5 | Jaisalmer To Jodhpur | Details |
| Day 6 | Jodhpur | Details |
| Day 7 | Jodhpur To Udaipur | Details |
| Day 8 | Udaipur | Details |
| Day 9 | Udaipur To Pushkar | Details |
| Day 10 | Pushkar | Details |
| Day 11 | Pushkar To Jaipur | Details |
| Day 12 | Jaipur | Details |
| Day 13 | Jaipur To Agra | Details |
| Day 14 | Agra | Details |
| Day 15 | Agra To Delhi | Details |